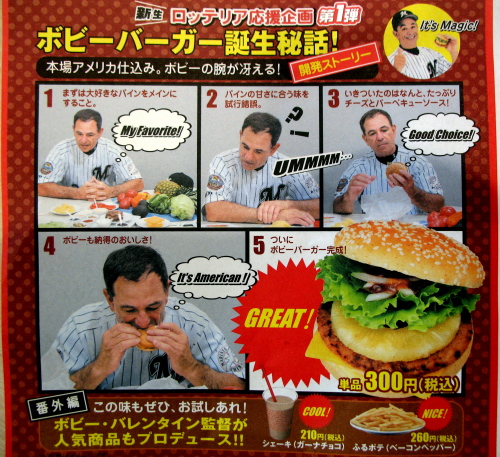 My previous post introduced
the Bobby Burger, an revolution in hamburgers "produced" by Bobby
Valentine, former NY Mets
manager and now kantoku of the Chiba Lotte Marines.
Now it can be revealed: How did Bobby come up with the idea for the
Bobby Burger? The placemat at Lotteria,
the only place in the world where the Bobby Burger can be found,
reveals Bobby's magic. First, Bobby looked at all the veggies, and
chose pineapple to be the leadoff hitter. Extra cheese then moved the
"pine" over, and barbecue sauce loaded the bases. Now a taste of that
magical Bobby Burger – It's a Home Run!