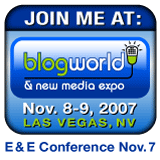 I am here at the first BlogWorld Expo in Las Vegas and blogging now from the "Blogger Lounge." Should be a great couple of days, there are what looks t be thousands of people gathered and dozens of companies.
Big shout out to two of our BlogHarbor/PressHarbor bloggers (both started blogging on our BlogHarbor platform and migrated recently to PressHarbor, to our new WordPress hosting service) who are speaking at the event.
Matthew Cerrone, publisher of MetsBlog, is speaking at several presentations in the sports blogging track.
And Des Walsh, who blogs with us at Thinking Home Business, spoke at several presentations yesterday at the executive track.
If you're here, let's get together!!!